Charles Addison Dillow
(1858-1918)

Charles A. Dillow
Charles Addison Dillow was born on May 6, 1858 in either Round Head, Hardin County, OH or in Madison County, OH, the son of William Baker and Evaline (Summers) Dillow. His mother died when Charles was five years old, in 1862, and his father married again, to Elizabeth Houser.
As a young man, sometime prior to 1881, Charles and his parents and siblings migrated westward to Central Illinois. They settled in the town of Weldon near Clinton, DeWitt County.
On the Fourth of July 1885, when Charles was 28 years of age, he was joined in holy matrimony with his first wife, 18-year-old Harriet Dixon (or "Dickson") (1867-1902), the daughter of James and Margaret (Yates) Dixon. The ceremony was performed by justice of the peace John J. McGraw at Clinton. At the time of marriage, Charles was a farmer.
The Dillows had 10 children, six of whom survived into childhood, but only four into adulthood -- Blanche Myrtle Johnson Burns, Margaret E. Willis, Elsie Mae Delamere, William Oscar Dillow, Caroline Jane Houchin and Lawrence E. Dillow. Their four children Rosetta Dillow (1893), Charles Edgar Dillow (1895), Persie Oliver Dillow (1898) and Lucy Belle Dillow (1899) all passed away in infancy.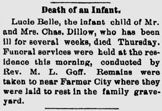 Lucy Belle's obituary, 1899
In reporting on Lucy Belle's death, in a short article on April 14, 1899 headlined "Death of an Infant," the Clinton Weekly Public said she had been ill for several weeks, and that she was "laid to rest in the family graveyard" in Farmer City.
Circa 1888 and 1889, when two of their daughters were born, the Dillows lived in Piper City, Ford County, IL. By 1891, when another daughter was born, they had moved to Mason City, IA. But the family eventually returned to DeWitt County, and when the federal census of 1900 was taken, the family lived in Clintonia Township, where Charles was listed as a "day laborer."
Sadly, Harriet died at the age of 35 in Bloomington, McLean County, IL on Aug. 10, 1902. She is buried in Farmer City, DeWitt County. She rests beside four of her infant children.
After two years as a widower, Charles married his second bride, Dora Belle O'Neal (1882-1962) on Dec. 10, 1904, in Bloomington, IL. They were a quarter of a century apart in age.
Charles and Dora went on to have five children of their own -- Evelyn Pearl Dillow, Mearle Addison Dillow, James DeLoss Dillow, Charles Kenneth Dillow and Paul Deland Dillow.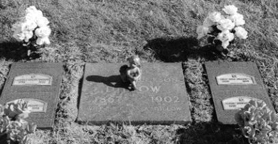 Dillow family plot in Farmer City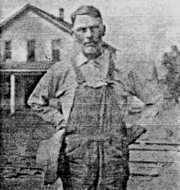 Farmer Charles
Sadly, daughter Evelyn died at the age of 14 in 1920, and son Charles died in infancy in August 1915. In all, Charles tragically lost six children before they reached adulthood.
Charles died in Clinton on Feb. 18, 1918, of causes unknown, after 14 years of marriage to Dora Belle. He is buried at Woodlawn Cemetery in Clinton.
Dora Belle supported herself as a widow through employment at the Catholic Church in Clinton. A newspaper said she unfortunately was "not in the best of circumstances."
In 1920, a heinous crime struck the family when Dora Belle's daughter, 14-year-old Evelyn, was murdered by an uncle, Raymond O'Neil, who then took his own life. His rambling farewell note, written on the back of blank checks in his checkbook, was published verbatim on the front page of the May 18, 1920 edition of the Clinton Daily Public. The newspaper said that O'Neil "had never been considered 'just right' mentally but was considered 'harmless' as is so often the case in affairs of this kind... [She] met her death from a 'harmless' brute that the laws of Illinois did not put away."
Dora Belle outlived her husband by more than four decades. At some point, she and Arthur Rhodaback produced a son, Roy Arthur Dillow.
She later married Abraham Thomas "Abe" Henson ( ? - ? ). Abe adopted Dora Belle's son Roy, and the boy's new name became Roy Kenneth Henson.
Dora Belle passed away in Shelbyville, Shelby County, IN, on May 21, 1962. She rests for eternity in Miller Cemetery near Shelbyville.
Part of the south and east sides of Clinton's public square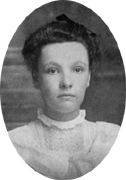 Blanche Johnson Burns
~ Daughter Blanche Myrtle (Dillow) Johnson Burns ~
Daughter Blanche Myrtle Dillow (1886-1932) as born in 1886.
She was married twice. The Clinton Journal & Public said she was a "prominent resident of Texas township."
Her first husband was David A. "Dave" Johnson (Oct. 17, 1875-1927), the son of Andrew D. and Minnie (Mills) Johnson of near Kenney, IL. They were wed on the Fourth of July 1902.
The Johnsons went on to produce six children -- Fred A. Johnson, Oscar Johnson, Duane Johnson, Edward Johnson, Mary Margaret Johnson and a baby who died in infancy. Sadly, son Oscar apparently also died in infancy.
They resided northeast of Kenney, IL circa 1926. In the autumn of 1927, after David had sown a large crop of wheat, the family was making plans to relocate the following spring to Wapella, IL.
The first of a tryptich of family heartbreaks happened in November 1926, when their son Fred and grandson Derald Gene Johnson were fatally burned after an oil lamp exploded.
Grief again blanketed the family on the last day of October 1927 when David was working on the Snell farm north of Clinton, apparently employed by the farm's tenant, George Walrod. He was badly injured when he "was assisting with putting up soy beans on the place," reported the Decatur Herald and Review. The pully broke, bringing down a hay fork on top of his head. "He suffered severe scalp wounds and other injuries. He was removed in an ambulance to the hospital for treatment."
He died the next day on Nov. 1, 1927. Funeral services were officiated by Rev. Wayne Stanley, held in the Christian Church, with burial in Woodlawn Cemetery.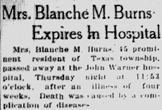 Obituary, 1932
After David's death, Blanche married widower Lafayette Burns (1860?-1930). His first wife had passed away on Oct. 6, 1922, a daughter of Ansel and Elizabeth Hull. Lafayette was the owner of a 33-acre farm near Clinton.
The Burnses separated after a year or two of marriage, with Blanche filing for support, and the news printed in the Herald and Review.
Tragically, just about a week after Blanche's legal complaint was filed, Lafayette was badly injured in a highway accident in Clinton on Sept. 17, 1930. Reported the Herald and Review, "he was thrown from a lumber wagon when the wagon was struck by a car on the Salt Creek hill south of Clinton.... The accident happened when [the driver] going north, attempted to pass Burns on the Salt Creek hill. As he started around the wagon he saw a car coming toward him and he applied the brakes which failed to hold and he crashed into the Burns wagon." His skull was fractured, and he died a few days later.
Twice widowed, Blanche suffered from "a complication of diseases." Just two years after Lafayette's death, Blanche passed away in Clinton on Aug. 11, 1932, at the age of 45. She is buried in Woodlawn Cemetery.
Son Fred A. Johnson (1902-1926) was born in about 1902. He was joined in matrimony with (?). They were the parents of Derald Gene Johnson, Manuel Johnson, Irene Johnson, Dorella Johnson and Paddy Johnson. The Johnsons made their home seven miles south of Kenney, IL. On the fateful day of Nov. 7, 1926, the 24-year-old Fred was refilling a lighted coal oil lamp with kerosene when it exploded. Said the Decatur Herald and Review:
Mr. Johnson, noting that the fuel in the lamp bowl was becoming low, unscrewed the wick-holder. While Manuel held the top so as to allow the end of the wick to dangle in the remaining oil in the bowl, his father started pouring kerosent into the lamp from a one-gallon oil can. The flame of the wick ignited fumes in the lamp bowl, exploding them, and the kerosene in the can exploded at the same time. The burning oil was thrown all over the room, covering Mr. Johnson and Derald Gene, who was playing on the floor, with flames, and setting the room afire. Strangely, none of the flaming oil touched the boy, Manuel, who was helping his father, and he escaped without injury. Mr. Johnson immediately started extinguishing the flames on Derald Gene's clothing, then put out the fire which had started in the room. this done, he rushed out of the house, across the road in front of it, and tumbled into a ditch filled with water, extinguishing the fmales on his own clothing. Though suffering greatly from the burns he had received, Mr. Johnson then walked to the home of B.C. Breisfoard, a mile away, and called a doctor at Kenney.
Fred and Derald were rushed to Decatur Macon County Hospital, where the boy soonafter died, and the father succumbed that evening. News of the double tragedy was published in the Decatur Herald and Review. (The book, Descendants of Thomas and Elizabeth Dillow, 1786-1996, states that it was stepson "Manual Hall" who was killed.) A double funeral was held in the First Christian Church, led by Rev. J. Wayne Stanley. Their charred remains were lowered into eternal repose in Woodlawn Cemetery.
Granddaughter Irene Johnson
Granddaughter Dorella Johnson
Son Duane Johnson (1911-1992) died on Sept. 10, 1992.
Son Edward Johnson ( ? - ? ) was born in (?). In September 1926, while driving two cows home from a local creek, he was struck by lightning. Reported the Decatur Herald and Review, "When the storm broke the cows found shelter under a large elm tree in the pasture. The boy was less than 30 feet away when a bolt of lightning struck the tree, killing the two cows instantly. The boy was stunned by the bolt but he soon recovered."
Daughter Mary Margaret Johnson (1920-2001) passed away on Jan. 12, 2001.

Margaret Willis
~ Daughter Margaret E. (Dillow) Willis ~
Daughter Margaret E. "Maggie" Dillow (1888-1969) was born in 1888 in Piper City, Ford County, IL.
At the age of 17, she married 25-year-old William L. Willis (1880-1929), just three days before Christmas, on Dec. 23, 1905. He was the son of Evan E. and Matilda E. Willis.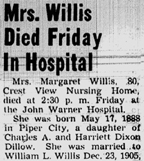 Obituary, 1969
Maggie and William were farmers in or around Clinton.
They had five children -- Edward Willis, Lucille Andrews, Harold Willis, Orville Willis and Evan Odair Willis.
When the census was enumerated in 1920, the Willises lived in Texas Township, DeWitt County, next door to William's father. They all are listed as farmers.
William died on Sept. 8, 1929, at the age of 49 in Pana, Christian County, IL, and is buried in Woodlawn Cemetery.
Maggie outlived him by four decades, and was a member of the First Christian Church of Clinton. The federal census of 1930 shows the 41-year-old widowed Margaret and her four sons living on West South Street in Clinton. She had no occupation that year, but apparently was supported by her sons living under her roof -- Edward, who worked as a floor man in a garage, and Harold, who was a laborer at odd jobs. As she aged, Maggie went to live in the Crest View Nursing Home.
She passed away on Jan. 10, 1969, at the age of 81, at John Warner Hospital. At her death, she had 12 grandchildren, 13 great-grandchildren and two great-great grandchildren. She and William rest for eternity in Woodlawn Cemetery.
~ Daughter Elsie Mae (Dillow) Delamere ~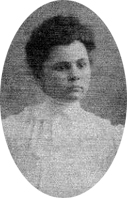 Elsie Mae Dillow, left, at about age 16, and right, with Daniel Levi Delamere on their 40th wedding anniversary
Daughter Elsie Mae Dillow (1889-1985) was born in 1889.
She married Daniel Levi Delamere (1879-1956), the son of John and Euphemia Delamere. The wedding took place on Feb. 1, 1908, in Clinton, with Daniel a full decade older than his bride. (Elsie's aunt, Sylvia Dillow, was married to Daniel's brother, Charles Edward Delamere.)
They had two daughters -- Louise Rogers and Helen Linton Curl.
Daniel was a longtime farmer. The Delameres resided at 109 South Elizabeth Street and were members of the Clinton United Methodist Church.
Daniel died at age 77 in Clinton, on Aug. 2, 1956, and is buried in the memorial park section of Woodlawn Cemetery in Clinton. At the time of his passing, they had six grandchildren.
Elsie Mae survived him by nearly three decades. She died at the age of 95 on April 14, 1985, and is buried beside her husband. She was survived, said the Clinton Daily Journal, by six grandchildren, 14 great-grandchildren and one great-great grandchild.

Clinton Daily Journal, Monday, April 15, 1985
~ Daughter Caroline Jane (Dillow) Houchins ~
Daughter Caroline Jane "Carrie" Dillow (1895-1921) was born in 1895.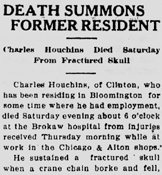 Clinton Daily Public, 1922
She married Charles W. Houchins (1892-1922), the son of John and Milia (Crum) Houchins, on Feb. 3, 1914.
They had one son.
Tragedy visited this family twice, leaving their young son as an orphan to be raised by a step-mother. The Grim Reaper first visited the Houchins' on Oct. 1, 1921, when Carrie was killed when her Ford automobile was struck by an interurban trolley. The accident occurred near the Clinton Country Club. Her remains were laid to eternal rest in Woodlawn Cemetery in Clinton.
Charles married again, to Bertha Justice, daughter of Mr. and Mrs. James Justice of Clinton, and did not produce any children.
Charles only lived a short time afterward. He obtained employment in Bloomington, McLean County, IL, laboring in the Chicago & Alton Railroad shops. Death claimed him a year later, in October 1922, of a fractured skull, "when a crane chain broke and fell, striking him squarely on top of the head, while he was at work with a companion in the coal chutes," reported the Clinton Daily Public. "A part of the hat which he was wearing at the time ... was driven into his head. Mr. Houchins was conscious all of the time, the terrible blow not even rendering him unconscious." He died at the Brokaw Hospital a day and a half after the accident, on Oct. 21, 1922. Burial was in Woodlawn Cemetery. Charles is one of far too many cousins to lose their lives in accidents related to the coal, coke and steel industries and railroad industries.
~ Son William "Oscar" Dillow ~
Son William "Oscar" Dillow (1891-1914) was born in 1891.
He was united in matrimony with Emily E. Long (1891-1918), the daughter of Jefferson and Mary (Dillavou) Long, on Feb. 16, 1913 in Clinton.
Oscar is said to have been very religious and to read the Bible before having a meal.
They both died young, without having produced children.
Oscar passed away first, at the age of 23, less than a year after marriage, on March 24, 1914. He is buried in the Woodlawn Cemetery memorial park. Emily followed him to the grave just four years later, at the age of 27, on Oct. 27, 1918.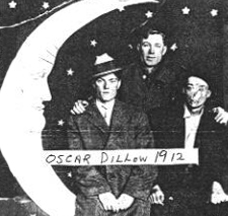 William Oscar Dillow and friends, 1912
~ Son Lawrence Edward Dillow ~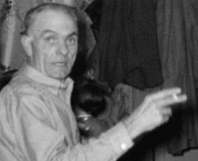 Lawrence Edward Dillow
Son Lawrence Edward Dillow (1899-1981) was born in 1899.
When he was age 24, he married 22-year-old Clara "Loraine" Derby-Gunter (1901-1966), who was the daughter of Orvil Gilbert and Olive Irma (Derby) Gunter. The wedding took place on Jan. 15, 1924 in Clinton.
They resided at 818 East Julia Street in Clinton, where Lawrence was a longtime masonry contractor.
Clara died at the age of 65 in Clinton on Sept. 1, 1966, said the Clinton Journal and Public, "following an extended illness."
At the time of her passing, Clara and Lawrence had 30 grandchildren.
Obituary, 1981
Lawrence survived her by 15 years, and made his home at 617 South Quincy Street.
At the age of 82, he passed away on Oct. 22, 1981, in Clinton, with burial at Woodlawn Cemetery memorial park. By the time of his death, he and Clara had 31 grandchildren and 23 great-grandchildren.
~ Daughter Evelyn Pearl Dillow ~
Daughter Evelyn Pearl Dillow (1906-1920) was born in 1906.
Sadly, she died in Clinton at the age of 14 on May 17, 1920. She was laid to rest in Woodlawn Cemetery.
~ Son Mearle Addison Dillow ~
Son Mearle Addison Dillow (1907-1982) was born in 1907.
He wedded Zella Bell Fox (1906-1971), the daughter of Jesse Edward and Lulu (Black) Fox, on Sept. 25, 1925 in Carrollton, IL
They were the parents of Robert Dillow.
Zella passed away at the age of 65, on Oct. 11, 1971, and is buried in South Park Cemetery, Greensburg, IN.
Mearle died at age 75 on May 27, 1982.
Son Robert Dillow, of Independence, VA, published a book, Descendants of Thomas and Elizabeth Dillow 1786-1996.
~ Son James DeLoss Dillow ~
Son James DeLoss Dillow (1909-1968) was born in 1909.
He married twice, first to Katherine Berk in August 1931.
Following their divorce, James married again to Frances Fanta (1914- ? ), the daughter of James V. and Teresa (Kopecky) Fanta, in Chicago on Jan. 21, 1939.
James died at age 59 on Dec. 5, 1968, probably in Indiana.
The fate of Frances is not known.
~ Son Paul Deland Dillow ~
Son Paul Deland Dillow (1916-1991) was born in 1916.
He married his first wife, Hazel Bennett, in Shelbyville, IN, but they divorced.
He then married Karen (?).
Circa 1981, he lived in South Carolina.
Paul died in Indianapolis, IN on Jan. 12, 1991.
Copyright © 2007-2008, 2019-2020 Mark A. Miner
.
The photograph of Charles and news obituaries courtesy of the DeWitt County Genealogical Society, Vespasian Warner Public Library in Clinton, DeWitt County.