John L. Minerd
(1893-1921)
John L. Minerd was born on Aug. 8, 1893 in Dunbar, Fayette County, PA, the son of James and Emma (Meyers) Minerd Jr.
When John was a boy, he was enrolled in the Uniontown Soldiers' Orphans' School, even though his father was still living. Then, in 1907, at the age of 14, he was sent to the Soldiers' Orphans' Industrial School at Scotland, Franklin County, PA.
Upon reaching adulthood, John worked as a day laborer. A family story suggests that John may have been injured working in the coal mines when struck in the head by a heavy chain. At some point he made the decision to join the U.S. Army. He also is said to have been in the service for six years, stationed in Hawaii. A niece recalled that while in Hawaii, he had two girlfriends, "one on each side of the island."
Circa 1915, he was assigned to the 15th U.S. Infantry, Company I, and was stationed in the Sackett Harbor Barracks along Lake Ontario in New York. But the 22-year-old found the rigor and regulation of military life not to his liking. He left his unit -- at a time when desertion was referred to as "French leave" -- and joined the 101 Wild West Show, a touring rodeo troupe. Then after a week or two of show business life, he left and returned to Fayette County, where his mother was residing with her second husband Anthony Burns in Smock. His younger brother George showed interest in joining the Army himself, and the two "left home without giving their parents notice," reported the Uniontown Morning Herald. "The self admitted deserter declares that he was able to dissuade his brother from the idea of military life shortly after they started on the trip, and that his brother left him with the intention of returning home."
On the evening of Aug. 6, 1915, while on Uniontown's Main Street, John stopped J.H. Williams and asked, "Do you want to make $50? I'm a deserter from the United States Army, and they're looking for me now." The two men then walked to the Fayette County Jail where night deputy warden H.L McIntyre locked him in a cell. The story was printed in the Morning Herald.
John registered for the World War I military draft in 1918, and stated his occupation as coal miner, residing at Fairbanks. He is not known to have served during the war.
On Dec. 16, 1918, in Uniontown, Fayette County, the 25-year-old John married 17-year-old Mary "Grace" Heinz (1901- ? ). They were eight years apart in age.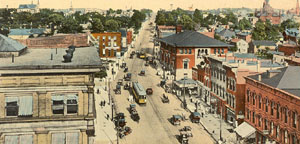 Akron's East Market Street, from the Hotel Portage
The Minerds resided in Smithfield, Fayette County. Sadly, the marriage lasted only a month. She left their home on Jan. 17, 1919, and filed for divorce the following year, citing cruelty. In the spring of 1920, when the divorce was finalized, John was known to be residing in Akron, Summit County, OH. He soonafter returned to Uniontown.
Circa 1921, working as a day laborer in Nicholson Township, Fayette County, John contracted a deadly case of pulmonary tuberculosis. He was unable to recover and succumbed on Sept. 13, 1921 – at the age of 28. He was laid to rest with his father and family at the remote, mountainous Lynn Point Cemetery near Dunbar, Fayette County. (Click here to see our report on the cleanup of this cemetery.)
Copyright © 2002, 2005, 2010, 2018 Mark A. Miner