Home

Faidley/Younkin Family Intermarriages (23)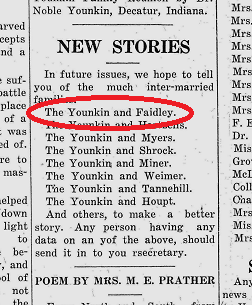 In the April 30, 1938 edition of the Younkin Family News Bulletin, publisher Charles Arthur Younkin promised that "In future issues, we hope to tell you of the much inter-married families" -- including "The Younkin and Faidley" right at the top of his list. To our knowledge, unfortunately, the Faidley material never made it into print.
Copyright © 2016-2017, 2020 Mark A. Miner
Reproduction forbidden without permission in writing.
With appreciation to late Digby Baltzell for planting the seeds of inspiration for this type of study.