Laughery Reunion - 2006
The 42nd Reunion of the Family of
David Leander Laughery and Martha Jane Harbaugh
August 19, 2006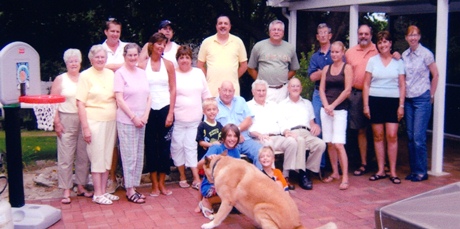 The Laughery gathering, Chester Springs, PA, 2006
The 42nd Laughery Reunion was held on Saturday, August 19, 2006, at the home of Keith and Maryanne Winand in Chester Springs, PA. Twenty-three members were present.
It was a warm August afternoon, but we found it very pleasant in the Winands screened porch, which was nice and shady. Things were a little late getting started as some of our members got into traffic jam on I-95. President Tim Douglas welcomed everyone and requested a moment of silence for our deceased members. Ron Case gave the blessing, and everyone enjoyed hot dogs, hamburgers, and chicken prepared on the grill by Keith. Our members also supplied many good side dishes and desserts.
After the meal was over, Tim opened our business meeting. We thanked Keith and Maryanne for hosting the reunion and Ron read the minutes and Treasurer Report form last year's reunion. There was a balance of $40 from which $18 was removed for postage and mailing, leaving a balance of $22.00. It was decided to collect dues this year and 12 families gave $60 bringing the total to $82.
The same officers will serve next year.
Pres. - Tim Douglas,
Vice Pres. - Kim Douglas, and
Ron and Peggy Case - will continue as Sec. and Treas.
Loretta heard from Mark Miner in Beaver, PA who is excited about some of the old pictures we have of the Laughery/Harbaugh family members. He would like to have bios of our members and some pictures to put on the Harbaugh Web site. We will put him on our mailing list.
The 43rd reunion will be held on the third weekend in August and will be hosted by Rell and Dayna Winand.
Respectfully submitted by
Ron and Peggy Case Sec. and Treas.