Laughery Reunion - 1994
The 30th Reunion of the Family of
David Leander Laughery and Martha Jane Harbaugh
August 21, 1994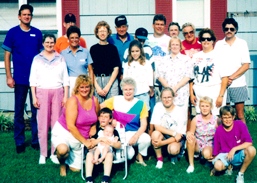 1994 reunion group
The thirtieth annual family reunion of the descendants of David Leander Laughery and Martha Jane Harbaugh was held on August 21, 1994, at the home of David & Vicky Laughery in Seaford, DE. It was a lovely day with thirty-three members attending.
Nancy Thompson, president, welcomed the guests. Ronald Case asked the blessing. Food prepared by many hands from the various families was in abundance and enjoyed by all.
A business meeting followed with the introduction of each family member and guests. New names were added to the family tree. Spencer Powell was born May 18, 1994. Jerry Thompson married Marie ______, April 23, 1994. Vicky Laughery (Bartholomew) married Charles Messick, Dec. 23, 1994. Don and Mary Laughery were the only family members from Pa. this year.
Don works in the Vital Statistics in Harrisburg and had devoted a lot of time in research of the Laughery Family tree. With this information perhaps a book could be compiled. Bobby & Teresa Thompson will host 1995 reunion.
New officers were elected:
Pres. - Susan Powell
V. Pres. - Nancy Thompson
Sec./Treas. - Loretta L. Downes
Entertainment - Susan Powell
Bobby & Teresa Thompson hosted 1994 Entertainment. Special prizes awarded to:
Youngest - Spencer Powell
Most Beard - Charles Messick
Longest Hair -Tim Douglas (Kimís friend)
Traveled the farthest - Don & Mary Laughery from Mechanicsburg, PA.
Other prizes were awarded for winners of word & quiz games. After the annual dues were collected, it made a balance on hand of $ 158.00.
Submitted by Loretta L. Downes