Home

Laughery Reunion - 2000
The 36th Reunion of the Family of
David Leander Laughery and Martha Jane Harbaugh
June 17, 2000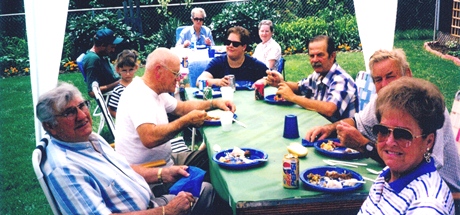 Guests enjoying the reunion picnic meal at the Case home in Delaware
Saturday, June 17, 2000, the Thirty-Sixth Annual Family Reunion of the descendants of David Leander Laughery and Martha Jane Harbaugh was held at the home of Ron and Peggy Case in Newark, Delaware.
Thirty-four members attended. The meeting had been changed from August to June because of the extreme heat and humidity in the 90-100s. To everyone's dismay, June 17, 2000 arrived with the three "H's" - Hazy, Hot, and Humid (90-95 degrees). The reunion was mostly held inside.
Everyone enjoyed the homemade dishes and the King's homemade ice cream, bravely carried by Julie from Lewes to Newark without melting. The blessing of the food and a moment of silence was held in memory of our loved ones. On May 19, 2000, Jack Wilkerson, husband of Elaine Wilkerson, son of William and Leona Wilkerson, went to be with the Lord. Interment in Todd's Church Cemetery.
The 1999 minutes were read and the treasury reported a balance of $107.00. It was voted to collect $2 per family. Twelve families paid $2 dues making a total in the treasury of $131.00. A discussion was held about the day and month and Nancy made a motion to change back to the month of August and the third Saturday. It was voted and approved for the Saturday, August 18, 2001. Nancy and Buck Thompson offered to host the 2001 reunion in their new home in Felton, Delaware.
New officers were elected for 2001:
Jerry Thompson, President
Marie Thompson, Vice President
Loretta L. Downes, Secretary/Treasurer
Tim Douglas, Assistant Secretary/Treasurer
Julie Yakimowicz, Entertainment
A birthday cake was presented to honor the birthdays of Irene Vincent, 6/6/31, (69th) and Loretta L. Downes, 6/13/33 (67th). Jerry and Marie are expecting in October 2000. Iris Wilkerson Woehlke made the day special with her presence. Fred Sammons, brother to Kathryn Laughery, came from Brookhaven, Pennsylvania to be with us. Lois and Harry Winand of Crystal City, Florida, won the prize for traveling the furthest. Karen Case of Sarasota, Florida had made plans for a very surprise entrance during the reunion, but the flight from Florida to Philadelphia, Pennsylvania was canceled. Even her parents were not aware of her plans. Nancy and Marie Thompson conducted games for both young and old. After lots of food, fun, and shared photographs and memories, we left feeling good and looking toward 2001.
P.S. A time capsule was buried on the Milton property owned by Loretta and Clayton - Specially marked and pictures taken of the spot.
Respectfully Submitted,
Loretta L. Downes,
Secretary/Treasurer