Laughery Reunion - 1999
The 35th Reunion of the Family of
David Leander Laughery and Martha Jane Harbaugh
August 15, 1999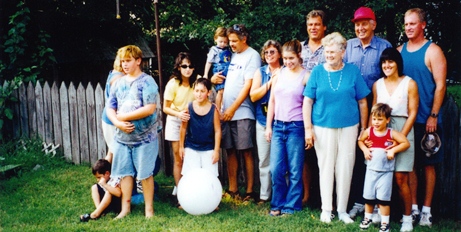 The 1999 Laughery reunion group
The 35th annual reunion of the family of David Leander Laughery and Martha Jane Harbaugh was held at the home of David and Vicky (Molly) Laughery in Seaford, De.
Gov.'s Carper (De) and Glendening (Md) have declared disaster on corn and some soy bean crops because of the drought. Voluntary water restrictions in place and no watering of lawns, etc in new Castle Co. mandatory. Due to the hot humid weather (90-95 for weeks) activity and fellowship was held inside with some of the children's games outside.
Ronald B. Case, Pres. Welcomed the 41 guests. Blessing of the food and a moment of silence for our deceased loved ones. After feasting on the many homemade dishes of food and homemade ice cream and a special cake to mark our 35th anniversary a meeting was held. First on the list was to change the month because of the extreme heat we've been having the past few years. June 17, 2000 was decided and Ron & Peggy invited all to come to their house in Newark, De. Also the change from Sunday to Saturday.
Many brought pictures, coins, jewelry, notes, a cell phone, all to be included in the time capsule. Loretta provided a wide mouth gallon jug and a bright orange poly, insulated water cooler to be buried in October at a marked site on Loretta and Clayton's Milton property. A map will be attached to these minutes. The time capsule can be exhumed at the will of the residing officers at the time chosen to mark a specific event or purpose.
Loretta reported that she had talked with Walter Martin and he said Uncle Willey (Willis) Laughery had asked him several years ago to place a tombstone on the grave site of Mary Lou Laughery, born on July 12, 1894 - died July 15, 1894 to Martha Jane & David Leander (their second child), reported he had taken care of it and would be sending pictures and information.
The treasury had $180.00, and it was voted to not collect dues this year 1999. $18.00 was paid out to Sheila for the anniversary cake and $40.00 paid to Teresa Thompson for prizes and entertainment leaving a balance $122.00.
New officers were elected as:
Pres. – Ronald Case
V. Pres – Peggy Case
Sec. /Treas. – Loretta Downes
Entertainment – Teresa Thompson and new member (married Barry) Christine Thompson
Trinity Thompson graduated High School and has been approached about modeling in Rehoboth Stores. Lois and Harry Winand had flown up from Florida so Harry would attend a reunion in Pa. on Saturday and we were all happy to have them join us for the day. Lois had had 15 terrible months of treatment and was a beautiful walking miracle. She looked great! Buck Thompson was recovering from 6 bypasses, but was suffering from his bad hip and looking for surgery soon on it.