Laughery Reunion - 2010
The 46th Reunion of the Family of
David Leander Laughery and Martha Jane Harbaugh
August 21, 2010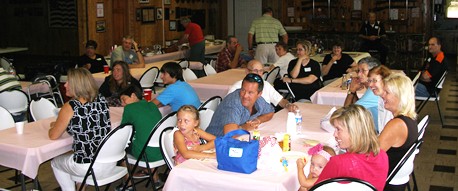 Laughery cousins at the 2010 gathering in Greenwood, DE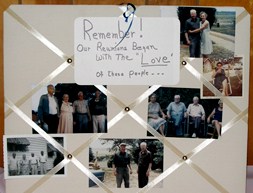 "Remember, our reunions began
with the "Love" of these people..."
The 46th annual Laughery Reunion of the family of David Leander Laughery and Martha Jane Harbaugh was held on Saturday August 21st, 2010 at 12:00 noon in the Greenwood VFW Hall, Greenwood Delaware. The weather was warm and sunny, but we were cool and comfortable in the air-conditioned building.
There were 38 people present. Our president, Tim Douglas welcomed everyone, and Ron Case gave the grace. We all enjoyed a great meal provided by the good cooks in our family.
After the meal, Tim called the business meeting to order. Ron had a moment of silence for our deceased member Clayton Downes who passed away on Jan. 11th, 2010. A moment of silence was held in respect for all of our other members who have passed in previous years.
New officers were elected for the year 2011:
President: Sheila Laughery
V. President: Loretta Downes
Sec. and Treas.: Ron and Peggy Case
In charge of children's games: Nancy Thompson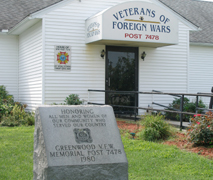 Greenwood VFW Hall
The time capsule was discussed and it was agreed to bring something from each family to put in it at the next reunion. There was one addition to our members, Ariana Jeanette Flickinger, born on 3/20/2010. One marriage, Lisa Laughery became Lisa Beakley in October 2009.
It was agreed to hold the Reunion next year on Sat. August 20th at the VFW Hall in Greenwood. Dues were collected, $5.00 per member. $150 collected. There was a $38 balance making $188 the balance. Exp. for this year were $100 for the hall rental, and $20 for mailing announcements leaving a balance of $68.
After the business meeting, Loretta introduced our guest Mark Miner from Beaver, PA. Mark has a Website www.Minerd.com, where can be found a great deal of information about the cousins and ancestors of the Laughery Harbaugh families. His Website has been noted as one of the 10 best in the Nation.
Respectfully Submitted
Ron and Peggy Case, Sec/Treas.