Home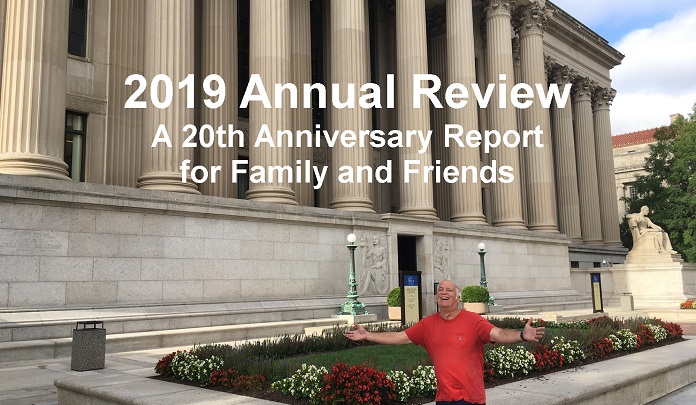 Cousin Eugene Podraza with me in August at the National Archives, Washington, DC
Minerd.com will reach its 20th anniversary online on May 7, 2020. During 2019, as in the past two decades, the site has tried to provide its followers with fascinating content and cultural relevance tying together tens of thousands of branches of early Pennsylvania German families. At a time when our country is terribly divided in politics, race, gender, fake news and so much more, our big hairy audacious objective is to be a unifying presence. How to do this? Make contact with as many cousins as possible, share family history widely and encourage others to share their treasures for all to enjoy.
The website this past year drew more than 32,300 visitors who made more than 102,400 page impressions. Scores of newfound cousins took the time to reach out to make contact. Since Google searches generate more than 65 percent of our audience, a major strategy continues to be to build our network by making the site as appealing as possible to as many like-minded cousins and friends as possible. This is done by researching more family branches and adding more names, meaningful images and real stories to help more cousins from afar make a personal connection. And so 2019 was spent in frenetic activity, travel, deep research, countless hours of writing and publishing, and responses to scores of diverse emails, all of it meant to unite, not divide.
~ Monthly Visitor and Page Impression Counts ~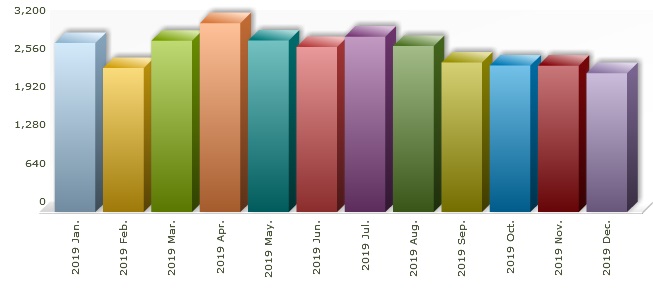 Above: monthly visitors. Below: monthly page impressions.

Courtesy Earthlink Analytics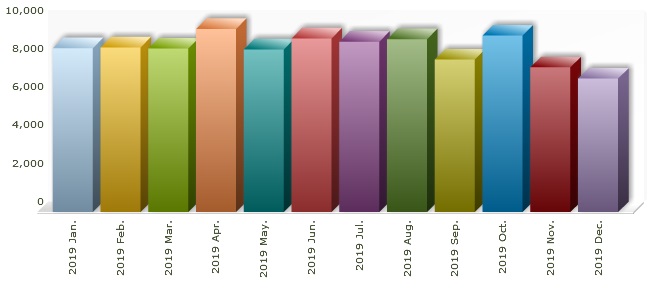 ~ Minerd.com's Comparative Performance ~
102,479 page impressions
Down from 112,057 in 2018

1,792 total bios on the site
Up from 1,736 in 2018

32,303 total visitors
Down from 39,985 in 2018

42 newly discovered Civil War vets


Of the MMMM and Younkin clans

22,185 new visitors
Down from 28,470 in 2018

21 blog posts published
Up from 15 in 2018

1,192 new images added
Up from 831 in 2018

12 photos of the month
235 since inception in July 2000

17,395 total images on the site
Up from 16,203 in 2018

89 recorded cousin deaths in 2019
Up from 85 recorded for the year 2018

69 new biographies added
Up from 50 added in 2018

2,480 recorded cousin deaths
All time since inception July 2000 - up 297 in 2019
~ New Family Facebook Page and the National Reunion ~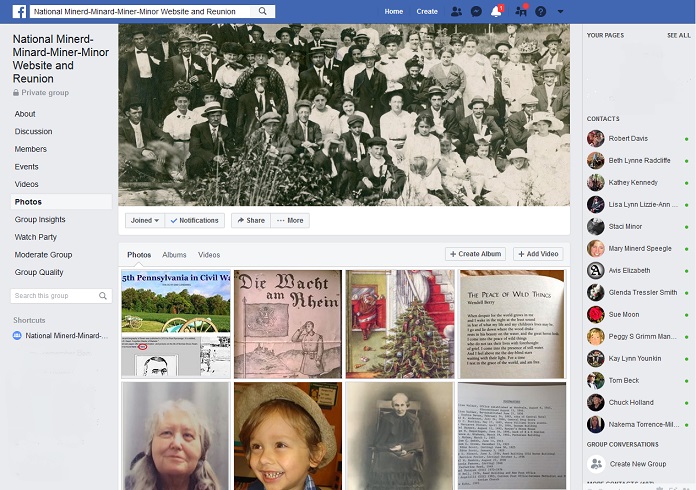 Our member-only M-M-M-M Facebook page drew 449 inaugural members in 2019.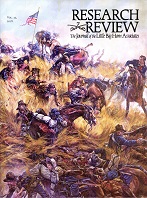 Article published by the Little Big Horn Associates
One of the top highlights of the past year was the springtime launch of a national social media experiment, a member-only Facebook page for cousins and friends. It's a 24-hour-a-day, seven-day-a-week, 36-day-a year virtual family reunion. On the page, cousins can post their own stories and photos, share obituary links and make new friends. Created on April 20, 2019, the page had grown to 449 members as of year-end. View the page>>>
The site's content was shared via other publishing opportunities, among them an article about our family's connection with General Custer's brother, published by the Little Big Horn Associates Research Review, entitled "Speckled Legacy: Tom Custer in American Pop Culture." The article was a finalist for the LBHA's annual Lawrence Frost Award for best article in the magazine. Other outlets for Minerd.com material included third-party blog posts, newspaper articles, book citations and even the reunion newsletter of our kissin' cousins, the Younkin-Younken-Youngkin clan.
Another way to reach out to the diaspora of cousins is through the Minerd.com Blog, with 21 posts made during the year, and our e-newsletter, emailed periodically to more than 500 cousins and friends.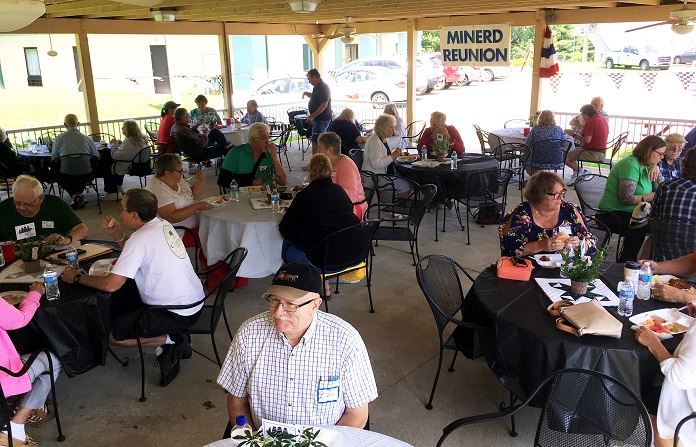 Some of the 66 cousins who came to our 2019 reunion
The most visible outreach to the family at large is the biennial National Minerd-Minard-Miner-Minor Reunion, held in Donegal, PA. The June 2019 gathering was broadcast via Facebook Live, for cousins unable to attend, and drew 66 cousins and friends from 12 states and 18 Pennsylvania towns. One cousin said that the day was "just plain gloriously wonderful and fun."
Another wrote that "I applaud all who I met and who have contributed so much over the years to keep the family ties strong. I pray that these bonds will expand and draw us closer together." The honor of the furthest-traveled went to David Mayle and his family from Oroville, CA and the oldest member to 95-year-old Dorothy (Bender) Krieg of Otsego, MI.
At the reunion, Joe McKnight of Connellsville, PA was elected treasurer, succeeding Doris (Sands) Hawker, of Morgantown, WV, who had served since 2001. As well, reunion co-founder and longtime secretary Rosella (Resh) Miner of Grantsville, MD retired from a position she had held since 1986. The husband-and-wife team of Robert and Kristen (Murphy) Krieg of Michigan volunteered to lead our next day-of reunion activities in 2021. More about the reunion recap>>>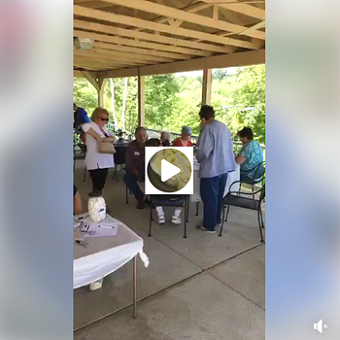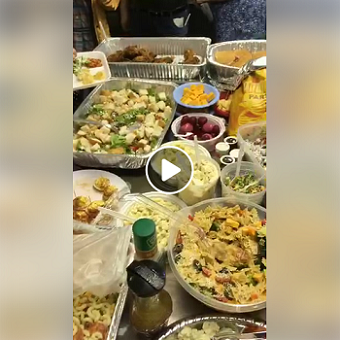 Click on the arrows to view Facebook Live video broadcasts at the 2019 reunion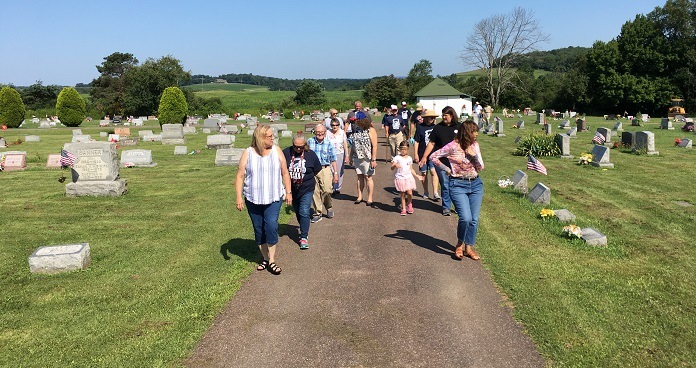 The Younkin Reunion tour group at the Odd Fellows Cemetery in Rockwood, PA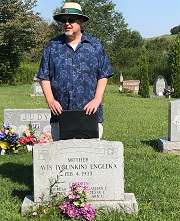 At the grave of a cousin
In addition, as a double Younkin, I've been active for decades with the annual Junghen-Younkin Reunion of Somerset County, PA. In July, I led a tour of cousin graves at the Rockwood (PA) Odd Fellows Cemetery and served as auctioneer to raise funds for the Younkin Scholarship. Check out the Younkin Reunion Facebook page>>>
In July, I was honored to lead a tour of the historic International Order of Odd Fellows Cemetery at Rockwood, Somerset County, PA as part of the Younkin Reunion weekend. I also served as auctioneer benefitting the Younkin Scholarship, which this year raised more than $600. Among the graves we visited were descendants of the three Younkin brothers who originally settled in the county in the late 1700s, as well as pioneers Jacob and Catherine (Younkin) Minerd Jr. and Leonard and Martha (Minerd) Harbaugh.
Our stops included the final resting places of Amos and Nora (Cramer) Harbaugh as well as these Younkin cousins who shared Minerd-Miner DNA: Carl and Edna May (Conn) Gorsuch, Jonathan and Ella (Younkin) Hauger, George A. and Susan "Edith" (Younkin) Miller, Harry and Mallzena (Younkin) Shaffer, Alton Glen Sterner, John and Martha "Ella" (Swarner) Vough Jr., Charles and Elizabeth (Younkin) Wable, John M. and Sarah "Gertrude" (Younkin) Weaver, George and Missouri (Younkin) Wingerd, Clark Melvin and Olive (Hauger) Younkin, Daniel Martin Younkin and wives, John William "Emery" Younkin and wives and Levi Grant and Alice (Pritts) Younkin. Other Younkin cousin graves on the route were Earl and Blanche (Tedrow) Bowman, Henry and Barbara (Younkin) Swarner, John Wesley and Emma Grace (Younkin) Tedrow, Fremont and Malinda (Countryman) Younkin, Harvey Carl and Georgianna (Moon) Younkin and Milton Bruce and Minnie (Sechler) Younkin.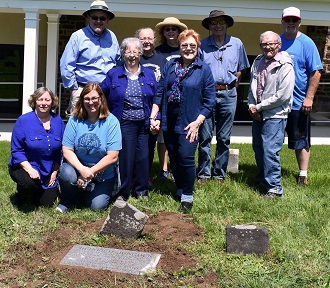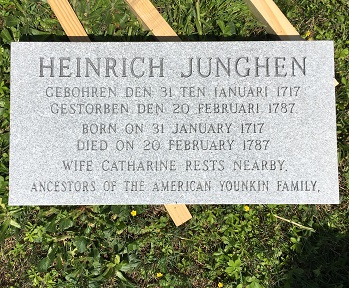 Our Younkin road trip group which placed a new grave marker for immigrant Heinrich Junghen.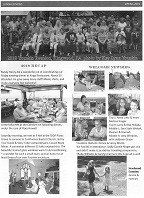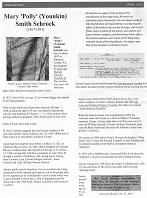 Junghen newsletter with the Schrock bio
Earlier in the spring, I was happy to be part of an 11-person Younkin road trip to place a new marker at the grave of our common ancestor, Johannes "Heinrich" Junghen, at St. Matthew's Lutheran Church, near Perkasie, Bucks County, PA. At his death in 1787, a small sandstone marker was placed on Heinrich's grave, with his name and dates of birth and death inscribed in his native German in precise capital lettering perfectly aligned. And so his marker sat, upright, visible and legible to anyone who came. It remained in place for decades, then for centuries, strong and solid. It remained a mute and rare reminder that this immigrant existed even as his living legacy of nine children fanned out to points west and produced 33 known grandchildren - 201+ great-grandchildren - and 913+ great-great grandchildren. Reunion treasurer Everett Sechler, who spearheaded the effort, wrote that it was the "fulfillment of a duty that has been needed to be done for future generations." Others on the team were Thomas Bitner, Randall Henry, Nancy Koontz, Linda Marker, Susan (Younkin) Moon, Barbara Park, Laurel (Sanner) Piersel, Christine Sechler and Jill Younkin. Read more on my blog>>>
Younkin Reunion official Linda Marker has been a tremendous friend, as a sounding board, driver of ideas, tireless reunion organizer and gracious sharer of her vast portfolio of photography and knowledge. Her volunteerism with the Rockwood Area Historical Society and Meyersdale Public Library is impressive. She also edits the Junghen Newsletter with love, and in 2019 re-published my biography of Mary "Polly" (Younkin) Smith Schrock.
~ Ceaseless Research and Content Development ~
The new, sprawling and encyclopedia Minerd.com Civil War Guide to the Family
In 2019, the top research/publishing effort was devoted to our clan's substantial connection with the Civil War. The work culminated in the Sept. 13 rollout of the new online Civil War Guide to the M-M-M-M family. It's intended to be a user-friendly resource for interested cousins and students in these topics – Soldiers By Name - Their Regiments - Their Bloodiest Battles - Casualties - Prisoners of War (POWs) - Freed Slaves in the Family - At the Homefront. The 150 known Younkin-Younken-Youngkin Civil War soldiers are highlighted on their own page.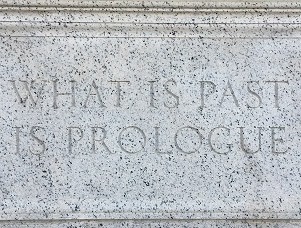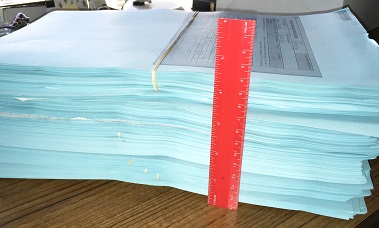 National Archives building inscription and my copies on the Archives' signature blue paper
To create a constant stream of new content involves a commitment of time, energy and funds as well as an understanding spouse. Travel is essential to tap into new research resources. In 2019 and the early weeks of 2020, I made two trips to the National Archives in Washington, DC, the 17th and 18th time I've worked there since 1987. As well, I made visits to the Civil War battlefields of Stone's River, TN and Manassas, VA and cemetery walk-throughs and photography in Berks, Lehigh and Somerset Counties, PA and Marion County, WV.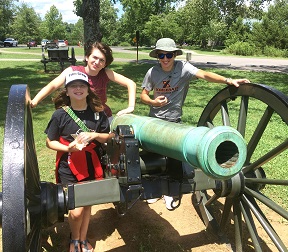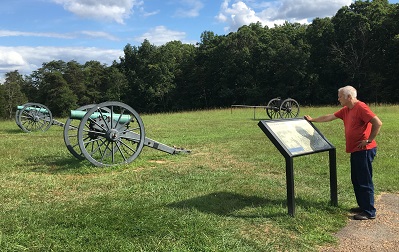 Left: with family at Stone's River Battlefield in Tennessee, where Oliver Browning, David "Nesbit" Miner amd Thomas M. Miner saw action. Right: with Eugene Podraza at the Manassas National Battlefield Park in Virginia where Confederate Jeremiah Minard and the Stonewall Jackson Brigade fought savagely.
One of the best ways I've found to gain a more meaningful understanding of the soldiers and their lives and hardships is in their military and pension records held at the National Archives. My two visits led to fascinating, substantial discoveries about 42 newly identified Union soldiers within the Minerd and Younkin clans. And I came back home each time with a stack of copies many inches inches thick -- all made directly from the originals in the Archives' holdings. Among the soldiers were:
Another focus of 2019 was a deeper dive into our German-ness – exploring the remnants of the values and traits brought by our ancestors from the Fatherland and where they might show up today. One of the most authentic ways to study this question is by examining the lives of the Gaumer branch of M-M-M-M cousins in the Reading to Allentown corridor of Pennsylvania. Generations of these cousins stayed put in the region and held onto their old ways over a much longer span of time. I used the opportunity of a weather-perfect, late September weekend to find and photograph family grave markers in the old German gothic script. I also wanted to document the extent to which generations of cousins continued to use the German language over many decades.
With stops at 10 cemetery sites, I came home with digital, high resolution photographs of more than 280 grave markers and the church buildings, some ancient, where the burying grounds are located. These graves represent 21 different branches of offspring of the Gaumers' founding family, Revolutionary War veteran Johan Dietrich "Dieter" Gaumer and his wife Maria Elizabeth Meinert of near Alburtis. This rewarding experience was described in more detail in my Minerd.com Blog post, "Clues to Our German Roots in the Tide Pools of the Longswamp."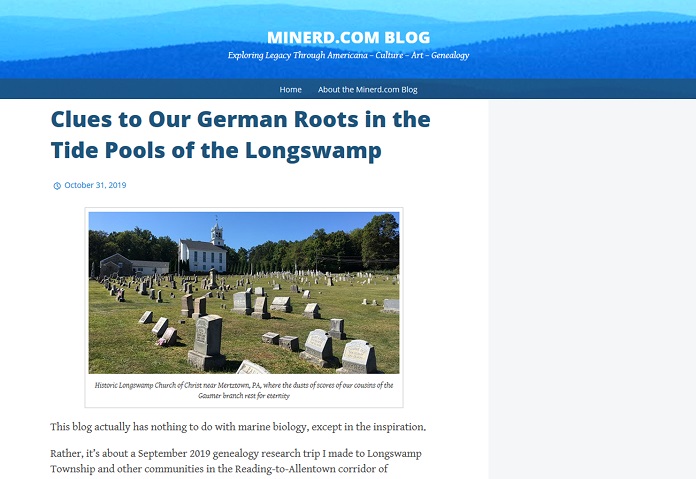 The Minerd.com Blog post about my weekend in Eastern Pennsylvania
~ It's All About People, People, People ~
The never-ending research and biography writing in 2019 introduced me to many interesting cousin personalities and their unusual contributions to Americana. Some of the highlights were:
A key to keeping this website relevant is to analyze the site's eycyclopedic, voluminous biographical data, draw meaningful compilations and write human feature stories about larger, broader themes. Among the updates in 2019 were:
~ 2019 Photo of the Month Recap (click to view larger) ~
| | | | |
| --- | --- | --- | --- |
| | | | |
| January | February | March | April |
| | | | |
| | | | |
| May | June | July | August |
| | | | |
| | | | |
| September | October | November | December |
~ What's Ahead in 2020, and a Heartfelt Thank You! ~

Minerd.com founder
Mark Miner
Understanding our family heritage helps us discern what's happening in our world today. Keeping the site going over two decades has been a never-ending. eye-opening voyage of adventure.
One step I took in 2019 to protect you and all of our visitors was to certify Minerd.com in a Hypertext Transfer Protocol Secure (HTTPS) format. This means that everything you see on the site is authentic and delivered via an encrypted connection, protecting you against bad actors.
As more of us use smart phones in more ways in our daily lives, trying to adapt the site structure to be more mobile friendly will be a challenge for the new year.
If you wish to contact me, I'd love to hear from you. My response may be slow, as I'm juggling two self-employed businesses, Mark Miner Communications LLC and Minerd.com Publishing LLC, plus seats on a few non-profit boards. So please be patient.
Thank you again to everyone who has contributed your special part from your own family's trove of family heritage. This site is for you, and would not be possible without you.
Sincerely,
Mark A. Miner, Founder, Minerd.com
January 23, 2020
~ For Reference: Updated Minerd.com Pages in 2019 ~
Biographies, feature stories and analysis of our family's contributions to Americana are the heart and soul of Minerd.com. As a reference, here's a list of some of the new and revised bios and features completed in 2019.
Sarah "Sally" (Younkin) Weimer King and husbands of Kingwood, PA

Elisabeth Junghen of Bucks County, PA

"Squire" John and Anna Margaret (Trout) Younkin Sr. of Perry County, OH

Henry and Sarah Ann (Bartlett) Younkin of Zanesville, OH and Chariton, IA

Samuel and Catherine (Godlove) Younkin of Perry County, OH and Riverside, IA

Abraham Younkin of Findlay, OH

Elijah and Mary Magdalena (Younkin) Atkins of Perry County, OH

Joseph and Susan (Meek) Younkin of Montrose and Keokuk, IA and Los Angeles, CA

John and Sarah "Sally" (Younkin) Trout of Perry County, OH and Mahaska County, IA

John Perry and Lillian Mae (Flowers) Turner of Butler, PA

Jacob and Hannah Yoder (Angstadt) Frederick Sr. of Dryville, PA

Jonathan "Jonas" and Lydia Ann (Mest) Frederick Sr. of Berks County, PA

David and Rebecca Margaret (Mest) Frederick Sr. of Berks County, PA

George and Rachel (Rohrbach) Frederick Sr. of Berks County, PA

Abraham and Hannah (Friedrich) Pauly of Berks County, PA

Andreas and Maria "Mary" (Friedrich) Walp/Walb of Berks County, PA

George "Adam" and Sarah (Meinder) Frederick of Berks County, PA

Aaron and Mary "Polly" (Younkin) Schrock of Kingwood, PA

Ephraim and Mary Elizabeth (Smith) Kreegar of Butler County, PA

William J. and Caroline (Schrock) Lynn of Clarke County, IL

Maj. Edward Morgan and Lydia (Weigle) Schrock of Somerset County, PA & Seattle, WA

Capt. Amos Schrock and wives of Franklin Grove, IL; Monroe, WI; Chicago; & Oakland, CA.

Capt. William Meyers and Mary (Foy) Schrock of Somerset, PA

William and Mahala (Burgoyne) Woods of Wayne County, IN

Evan and Elizabeth Ann (Taylor) Burgoyne of Indiana, Illinois and Oklahoma

John P. and Sarah (Burgoyne) Stockton of Vermilion County, IL

James H. and Lura (Butler) Burgoyne of Danville, IL

William B. and Duanna (Burgoyne) Hawkins of Vermilion County, IN

William and Matilda J. (Burgoyne) Woods of Kokomo, IN

John Wesley and Jane S. "Jennie" (Hawkins) Burgoyne of Danville, IL & Tushkahoma, OK

Robert L. and Katherine (Mallon) Burgoyne of Buffalo, NY

Elizabeth (Burgoyne) Russell of (?)

Heinrich "Henry" and Catharina Heinly (Gaumer) Acker of Weisenberg, PA

Samuel and Permelia (Carven) Gaumer of Fayette, NY

Moses D. Garmer and wives of Carbon and Lehigh Counties, PA & Eliza, IL

Solomon Heinly and Hester Maria (Rumbel) Gaumer of Weisenberg, PA

Nathaniel "Nathan" and Mary Ann (Keck) Gaumer of Allentown, PA

William and Pasida (Correll) Gaumer of Maxatawny, PA

James and Lydia (Brishe) Gaumer of Mercer County, IL & Osceola County, IA

Jacob and Catarina (Keiser) Gaumer of Columbia and Somerset Counties, PA

Johann Dietrich "Dieter" and Anna Elizabeth (Heinly) Gaumer of Lehigh and Somerset Counties, PA

Friedrich "Frederick" and Hannah (Barber) Gaumer of Macungie, PA

Jacob and Catharine (Weyand) Frank of Bloomington, IL

Joseph and Sarah (Weyand) Coleman of Somerset, PA

Joseph A. and Mary (Weyand) Rhoads of Somerset, PA

William and Catherine (Loehr) Weyand of Bloomington, IL

John and Catharine (Brant) Weyand of Berlin, PA

Joseph and Elizabeth Weyand of Lavansville, PA

Samuel and Caroline (Umberger) Weyand of Waterloo, IA

Michael and Sarah (Walker) Weyand Jr. of Somerset County, PA

William Henry and Isabella (Douglas) Beltz of Lonaconing, MD; Alliance, OH; and Pittsburgh, PA

Joseph P. and Maria (Meitzler) Rothenberger of Longswamp, PA

George and Christina "Dina" (Fegely) Pilgert of Longswamp, PA

John Adam and Susanna (Troutman) Sturtz Jr. of Somerset County, PA and Greene, IA

Jones and Catherine (Welker) Tucker of Knox County, OH & Laclede, IL

Daniel and Sarah Ann (Parker) Gaumer of Penn, IA

Peter and Susannah (Hauger) Gaumer of Knox County, OH

Solomon and Sarah (Hauger) Gaumer of Knox County, OH

William and Rachel (Gaumer) Shultzman of Tiverton, OH

Jacob and Amy "Elizabeth" (Gaumer) Hauger of Knox County, OH

Charles and Rachel (Bainter) Sturtz of Adamsville, OH

Brown and Lucinda (Sturtz) Brellsford of Butler, OH and Oskaloosa, IA

Catharine (Sturtz) Horschmann Palmerton and husbands of Coshocton, OH

Adam and Jane (Wiggins) Sturtz of Dresden, OH and York, KS

Andrew Jacob and Mary McClure (Reeser) Sturtz of Cortland, IN and Hazel Dell, IL

Jacob and Lydia (Sturtz) Knapp of (?)

Solomon and Margaret (Mowry) Sturtz of Knox County, OH

Solomon Comp and wives of Bedford County, PA

Solomon Powell and Elizabeth (Comp) Hufferd of Bedford County, PA

John and Lucinda (Comp) Geller of New Buena Vista, PA

Adam and Sarah (Comp) Lepley III of Wellersburg, PA

John and Julia (Geller) Comp of Buffalo Mills, PA

Samuel and Lucy Comp of Buffalo Mills, PA

Jacob Comp Jr. of Buffalo Mills, PA

Adam Andrew and Amanda (Elder) Comp of Cumberland, MD

Lewis and Matilda (Comp) Beltz of Buffalo Mills, PA

Adam and Hannah (Comp) Diehl of New Buena Vista, PA

Adam C. Sturtz of Greene, IA

Adam and Jane (Wiggins) Sturtz of Dresden, OH & Leesburg, KS

Joshua Brellsford and John C. Brellsford of Oskaloosa, IA

Thomas and Elizabeth (Bush) Hinerman of Aleppo, PA

Henry Hinerman of Aleppo, PA

George Washington and Lillie Pearl (Fields) Rankin of Farmington, PA

Jeremiah and Susan (Hunt) Minard of Kingwood, WV & Newark, NJ

Levi "Grant" and Alice (Pritts) Younkin of Rockwood, PA

George A. and Susan "Edith" (Younkin) Miller of Rockwood, PA

Charles T. and Elizabeth (Younkin) Wable of Rockwood, PA

John M. and Sarah "Gertrude" (Younkin) Weaver of Rockwood, PA & Cumberland, MD

Samuel and Sarah (Jennings) Bookman of Ursina, PA

Michael and Mary Anne (Ream) Weyand Sr. of Somerset, PA

Henry "Foxy" and Barbara (Minerd) McKnight of Dawson, PA

Burkett M. and Mary (McMillen) Fawcett of Newburg, WV

David Nesbit and Caroline (Crumrine) Miner of Columbus, NE and Council Bluffs, IA

Thomas M. and Meletha (Ogburn) Miner of McLuney Station, OH & Lilly, PA

Presley and Emeline (Zinn) Martin of Rivesville, WV

Sylvester "Monroe" and Kesiah Emeline (Orr) Martin of Preston County, WV

James and Mary (Minor) Burgoin/ Burgoyne of Muskingum County, OH

Orga "Homer" and Lola Rebecca (Minard) Crawford of Clarinda, IA

Frank Errold and Alice (Agett) Wydman Sr. of Corning, NY

George E. and Althea Alice (Prinkey) Rowan of Mill Run, PA

Elizabeth Richardson of Sego, OH

John Andrew ans Susan (Pletcher) Miner of Somerset County, PA

Walter Herbert and Lucinda Katherine (Martin) Skinner of Clarksburg, WV

James H. and Estella (Minor) Ferguson of Marion, IN

Joseph R. and Emma Frances (Gordon) Minor of Newark, OH

Oren Bernard and Lillian May (Tong) Minor of New Philadelphia, OH

Carrie (Minor) Wilson Wilkinson and husbands of Columbus, OH.

William Austin Rowan and wives of Ohiopyle & Dunbar, PA

Richard M. and Sarah Ellen (Minerd) Crawford of Uniontown, PA

Marcellus "Bailey" and Hannah A. "Belle" (Maffin) Miller of Preston County, WV & Athens County, OH

Johann "Heinrich" and Catharina (Scherer) Junghen of Niederasphe, Germany & Bucks County, PA

Rudolph "Ralph" and Elizabeth (Hockman) Younkin of Bucks County, PA & Perry County, OH

Marcellus Murray and wives of Scottdale, PA

John "Gilbert" and Harriet "Emma" (Loncas Wright) Miner of Hebron, OH

Ralph and Mary "Leola" (Skinner) Miner of Mill Run, PA

John Leonard and Ollie Margaret (Miner) Plants of Ashtabula, OH

Johannes Jacob "John" and Susannah (Leydig) Gaumer of Somerset County, PA and Danville, OH

Harry H. and Mallzena (Younkin) Shaffer of Connellsville and Rockwood, PA

Daniel Martin Younkin and wives of Rockwood, PA

Joseph and Elizabeth (Rowan) Hall of Maple Summit, PA

James R. and Mary Eliza (Harbaugh) Hall of Maple Summit, PA

John and Barbara (Long) Harbaugh of Victoria, PA

Philip and Esther "Hattie" (Fegley) Kline of Clarion County, PA

Johann "Baltasar" and Mary Magdalene (Meinert) Bohm of Berks County, PA

William Judson and Daisy (Glover) Harbaugh of Connellsville, PA

Rev. John Austin Harbaugh and wives of Blue Knob & Indian Creek, PA

Christmas and Fannie Elizabeth (Rankin) Leonard of Ohiopyle, PA

John M. and Salome (Meinder) Lease of Berks County, PA

Gideon and Anna Mathilda (Meinder) Bucher of Lycoming & Union Counties, PA & Warren County, IN

Jesse A. and Flora "Belle" (Farabee) Miller of Prosperity, PA

Thomas and Katherine (Ramsey) Minerd of Smithfield, PA

John William and Phoebe (Maust) Rankin of Elliottsville, PA

Samuel S. and Lula Ethel (Stairs) Swift of Youngwood, PA

Benjamin Franklin "Frank" and Jessie (Thurston) Piper of Mount Pleasant, PA

Clarence "Jay" and Clara Belle (Keffer) McKnight of Dawson, PA

Eli and Catherine (Dean) Leonard of Farmington & Wilkinsburg, PA

Heinrich "Henry Harrison" and Lisetta "Lucetta" (Fegely) Fegely of Macungie, PA

George and Maria Anna (Schmick) Fegley of Macungie, PA

Philip and Esther (Gaumer) Kline of Macungie, PA

Jesse and Elizabeth (Baer) Fegley of Macungie, PA

David and Hannah M. (Gaumer) Dankelof Berks County, PA

David Fegely Jr. of Macungie & Emmaus, PA

James and Mary (Bernhard) Fegley of Macungie, PA

Johan "George" and Leah (Conrad) Wetzel of Berks County, PA

Henry and Lydia (Wetzel) Heimbach of Berks County, PA

Nathan and Sarah (Wetzel) Heimbach of Berks County, PA

Elijah and Marietta (Wetzel) Conrad of Berks County, PA

Joseph and Mary (Bastian) Gaumer of Macungie, PA

David M. and Liesetha "Lucetta" (Gaumer) Treichler of Berks & Lehigh Counties, PA

Charles and Judith "Judy" (Gaumer) Wenner of Bortz's Mill, PA

Benjamin Charles and Maria (Mensch) Gaumer of Macungie, PA

Carolina (Gaumer) Fox Schneck and husbands of Berks County, PA

Aaron P. and Anna "Maria" (Gaumer) Jacobs of Allentown, PA

Jonas F. and Ettillia C. "Tillie" (Sieger) Gaumer of Macungie, PA

William and Eliza (Ettinger) Gaumer of Macungie, PA

Heinrich and Catherine (Gaumer) Fögle ("Fegely") of Mertztown, PA

David and Susanna (Gaumer) Fögle ("Fegely") of Macungie, PA

Heinrich "Henry" and Susanna (Mory) Gaumer of Alburtis, PA

Johan Peter and Anna Margaretha (Gaumer) Wetzel of Mertztown, PA

Johann Adam and Christiana (Wesco) Gaumer of Macungie, PA

Grant Ulysses Miner and wives of Connellsville, PA

James and Sarah "Ellen" (Sands) Harbaugh of Maple Summit, PA

Johann Heinrich and Anna Margaretha (Meitzler) Gaumer of Macungie, PA

Johann "Friedrich" and Catharina Barbara (Eisenhardt) Gaumer of Macungie, PA

Jacob and Elizabeth "Betsy" (Sturtz) Comp of Wellersburg, PA

Daniel and Mahala (Younkin) Schrock of New Centerville, PA